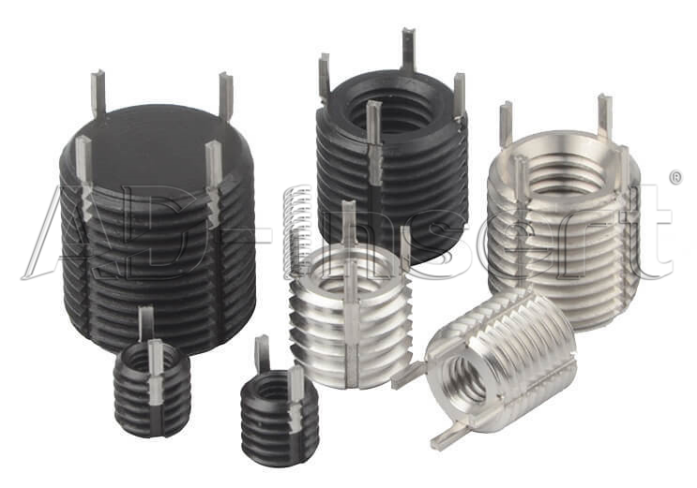 The introduction for AD-Insert® keylocking threaded inserts
AD-Insert® keylocking threaded insert is a kind of special fastener with external and internal thread and there are 4 or 2 keylocking keys on external thread. Install insert into the tapped hole, then press-into 4 keylocking keys,resulting a strong tightening effect.keylocking threaded inserts are widely used for the products of high strength of screw thread, such as: airborne, ship, vehicle military electronic equipment and instruments and meters, locomotives, etc and also have been suffered severe vibration, impact, salt spray test, humid heat test and actual use test.
The advantages of AD-Insert® keylocking threaded inserts
◆ Repair the damaged threads effectively .
◆ Especially suitable for application in high strength of internal thread environment. Strong anti-seismic and anti-tensile ability.
◆ Can enhance strength of threaded hole more effectively than ordinary stainless steel wire threaded insert .
◆ Two materials: carbon steel and stainless steel for metric &inch.
◆ Easy for use and installation.
The classification of the AD-Insert® keylocking threaded inserts
Thin wall, Solid, heavy duty, Extra heavy duty
Installation Method for AD-Insert® keylocking threaded inserts
1、Drill
The drill hole's depth should be greater than keylocking threaded insert's length.
2、Tapping
The tapped thread should be matched with external thread of keylocking threaded insert.
3、Install
Screw insert into hole, the insert should below the surface of the workpiece.
4、Lock
Press the insert's keys into hole with special tools.
The materials for AD-Insert® keylocking threaded inserts
1、Carbon steel 2、SUS303 stainless steel 3、SUS316 stainless steel
If you want to obtain more product related data, please refer to our product electronic sample or contact us:0411-86858458.